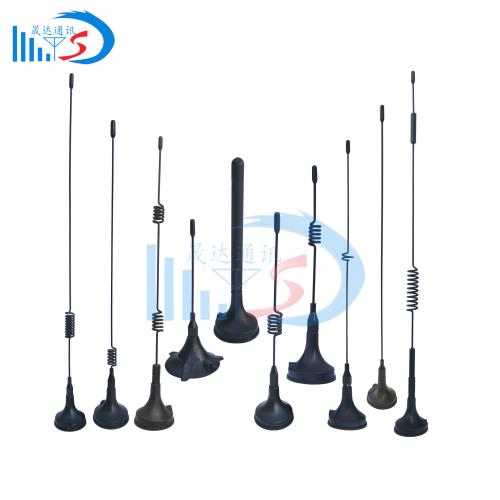 Communication antennas are ubiquitous in our lives, such as streetlight antennas, home wifi antennas, lawn card antennas, etc. They have a variety of shapes and shapes, and they are aesthetically pleasing and concealed. Below, this article will focus on the use of suction cup antennas. What should you pay attention to when installing this type of suction cup antenna?
What is the use of the suction cup antenna?
The suction cup antenna is the same as the ordinary antenna, and its main function is to radiate and receive radio waves. The suction cup antenna is fixed in a certain place by passing the antenna through a suction cup at the bottom to avoid accidents. Because its suction cup base is relatively stable, it is widely used on vehicles. In the wireless module industry, sucker antennas are often used in conjunction with wireless modules to increase the communication distance of wireless modules.
The working principle of the antenna: the high-frequency current is converted into electromagnetic wave during transmission; when receiving, the electromagnetic wave is converted into high-frequency current.
Suction cup antenna installation precautions
The surrounding environment has a great influence on the use of the antenna. It is not blocked by the building in the vicinity, and there is no strong electromagnetic interference in the surrounding space, so that the suction antenna can radiate and receive the remote signal.
In conjunction with the wireless module, the following principles should be noted to ensure the best communication distance of the module:
1, the antenna should not be close to the surface, the best around the obstacles
2. When using the suction cup antenna, the lead wire should be straightened as much as possible, and the suction cup base should be attached to the metal object.
The price of a small suction cup antenna is generally between 5 and 16 yuan. If it is a large suction cup antenna, the single price is about 80 yuan. The length of the extension cable can be customized. In summary, the function of the suction cup antenna is to radiate and receive radio waves. When installing and using the suction cup antenna, pay more attention to moving away from obstacles and straightening the leads to better transmit and receive signals to achieve the best communication distance.